In our annual publication TOKYO2019, we interviewed Simon Sinek, the author of the global bestseller Start With Why – How Great Leaders Inspire Everyone to Take Action.
Simon Sinek - 

an unshakable optimist
 

He believes in a bright future and our ability to build it together.Described as "a visionary thinker with a rare intellect," Simon teaches leaders and organizations how to inspire people. With a bold goal to help build a world in which the vast majority of people wake up every single day feeling inspired, feel safe at work, and feel fulfilled at the end of the day, he is leading a movement to inspire people to do the things that inspire them.Simon may be best known for popularizing the concept of WHY in his first TED Talk in 2009. It rose to become the third most watched talk of all time on TED.com, with over 40 million views and subtitled in 47 languages. His interview on millennials in the workplace broke the internet in 2016 and garnered over 200 million views in the first month. This led to Simon being YouTube's fifth most searched term in 2017.
#1 of 4 Purpose Key Person Interview – Simon Sinek
SMO: You mention in your talk, How Great Leaders Inspire Action, in the context of the Golden Circle, people have the tendency to go from the clearest thing to the fuzziest thing and, thus, think, act, and communicate from the outside in. However, why is it that leaders like Martin Luther King and companies like Apple are able to start from WHY; what is different about these leaders and organizations that enables them to think, act, and communicate from the inside out?
Simon:When I began to study those leaders and organizations with an extraordinary ability to inspire, they allhad that one thing in common: they were clear on their WHY. They knew what they stood for, their reason for being, or Ikagai, and they had an ability to consistently think, act and communicate starting with their WHY.

There's not much difference between them and anyone else. We each have the capability to inspire – tothink, act and communicate from the inside out. Of course, we first must find our WHY. We must discover our compelling reason for being. We need to know what we stand for in order to stand out.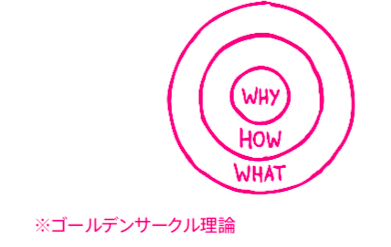 inverviewer : Justin Lee (SMO)
Go to #2
---
 TOKYO2019 including this interview page is available on our website. (Sorry, Japanese only)